Learn More About Spring Creek Chalet
Retirement should be all about peace of mind and carefree living.
You have worked hard all your life to provide for yourself and your loved ones, and now it's time for someone else to take care of you and your needs.
You want to be in a place that empowers you to gain knowledge, have fun, and grow. Our residence aims to encourage the idea of new phases in your life.
Spring Creek Chalet offers the perfect combination of autonomy and care. You have your private apartment with an ensuite bathroom, bedroom, kitchenette, and living room where you can spend your time.
Whenever you want some company, simply wander into our communal areas to meet up with friends, chat, and take part in our activities. If you'd rather spend some alone time in a beautiful setting, you can tend to the garden or take a leisurely walk on our 20 acres of land.
You don't have to worry about housekeeping or cleaning: we take care of everything. Housekeeping, linen, towels, laundry, and cleaning are done by our staff so you don't have to spend any time doing chores.
Our residents savor three freshly prepared meals a day, served restaurant style, and enjoyed in the company of their friends at Spring Creek Chalet.
Our goal is to offer you the serenity and comfort you deserve in all aspects of your life.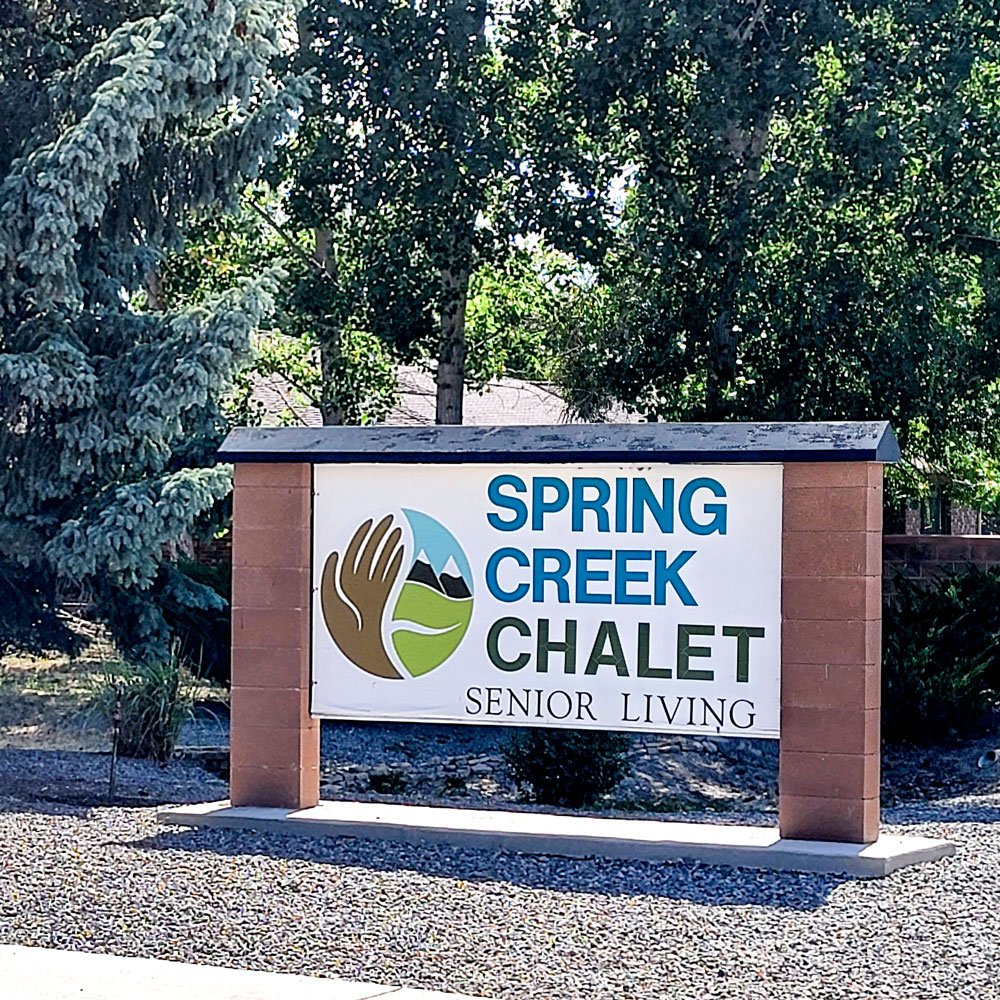 Who We Are
Family-owned and operated Spring Creek Chalet is an Old-World-chalet-style building that houses 26 independent apartments within 20 acres of landscaped gardens, complete with a lovely gazebo and pond.
We take great pride in providing a superior experience for all our residents.
At Spring Creek Chalet we are always striving to go above and beyond your expectations, which is why we want you as part of this family!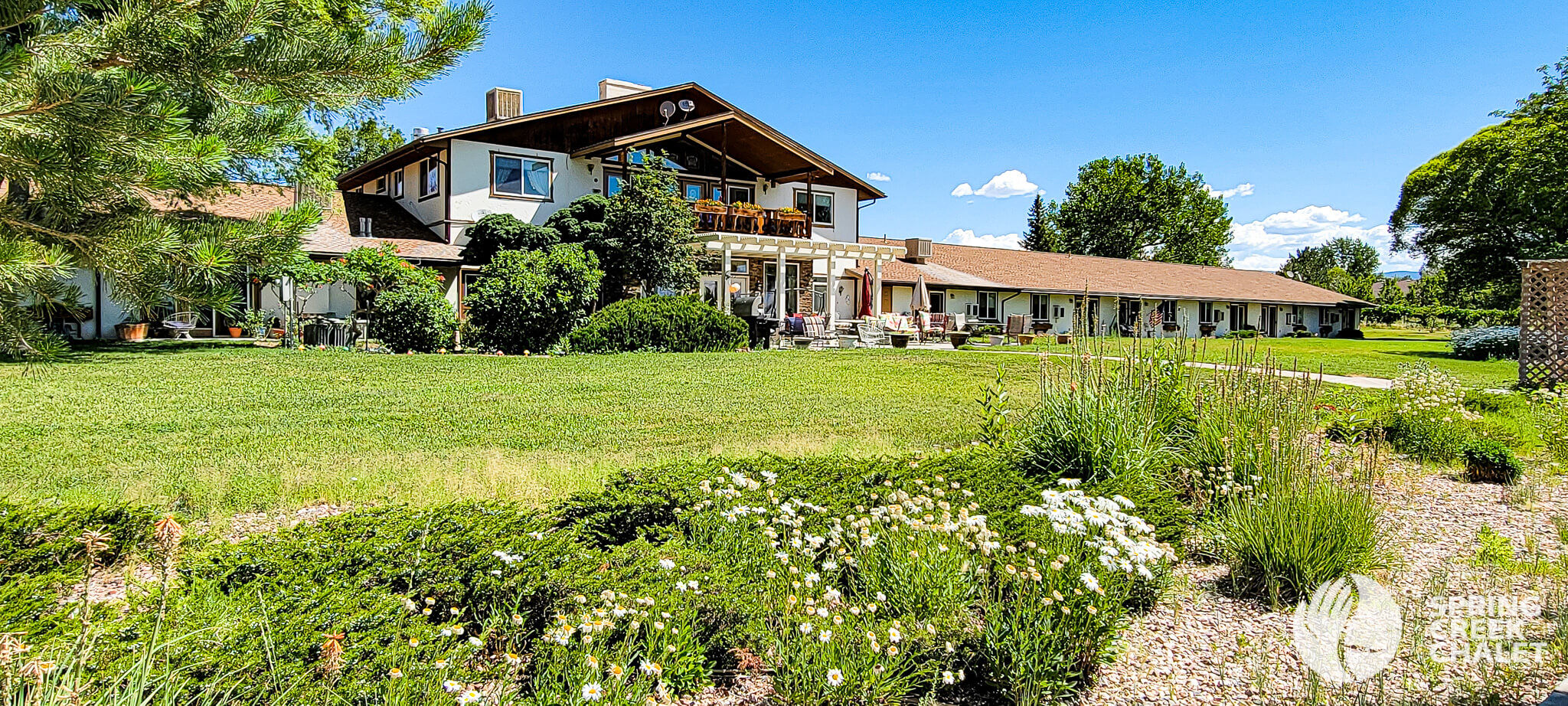 Founded over 30 Years Ago
Spring Creek Chalet has been an independent living community since 1988. We have the expertise to take care of our residents, who are like an extended family to us. We enjoy the friendliness that comes with running a retirement community.
Many people who reach retirement feel their homes are too big. They often wish to downsize and move to a place where they have fewer things to worry about. Spring Creek Chalet in Montrose is a place they can call home. They are moving into something more manageable where they don't have to worry about cleaning, driving, or cooking.
We believe that independent living is the most appropriate choice for older people who are still relatively healthy but are tired of everyday chores and responsibilities.
Our scheduled daily activities, as well as our extensive gardens, offer our residents plenty of opportunities to socialize and enjoy the beautiful Colorado outdoors.
Dedicated to Care
Our daily care is to give our residents a calm and enjoyable environment that inspires them to be themselves.
Just as we do our due diligence to provide the best care for each and every one of you, we carefully handpick our staff members. Our goal is to offer our care with both excellence and compassion; your experience here will be nothing short of life-changing!
Our chef loves preparing meals with fresh produce and our cleaning staff takes pride in their work. We work as a team to deliver excellent service to the people who trust our community.
The Spirit of Independent Living
We want our residents to feel independent but not isolated. We want them to know they are being taken care of but not feel smothered. To us, the spirit of independent living is all about finding the perfect balance between autonomy and care.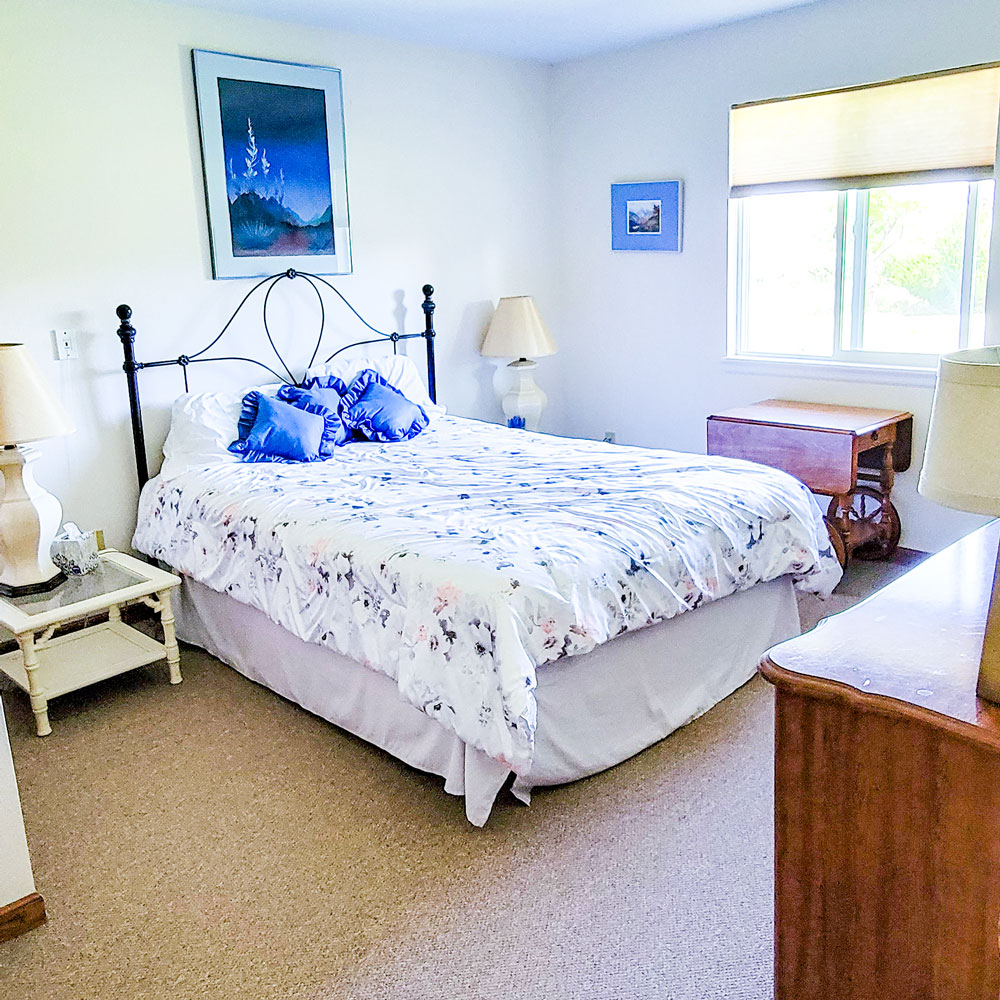 Independent Apartments
Our cozy apartments are the perfect place to relax, read books, paint, listen to music, or do your daily yoga exercises. Each apartment has a private patio to sip your tea or coffee and start the day in the most serene way.
Housekeeping Services
Our weekly housekeeping services will keep your apartment clean without you having to lift a finger. The laundry room is available for residents for their personal use. We also do dusting, vacuuming, changing beds, as well as the linens and towels.
Healthy Meals
You have plenty of delicious, healthy menu choices for breakfast, lunch, and dinner. We also offer a 24-hour snack service if you wish to nibble at something throughout the day or night.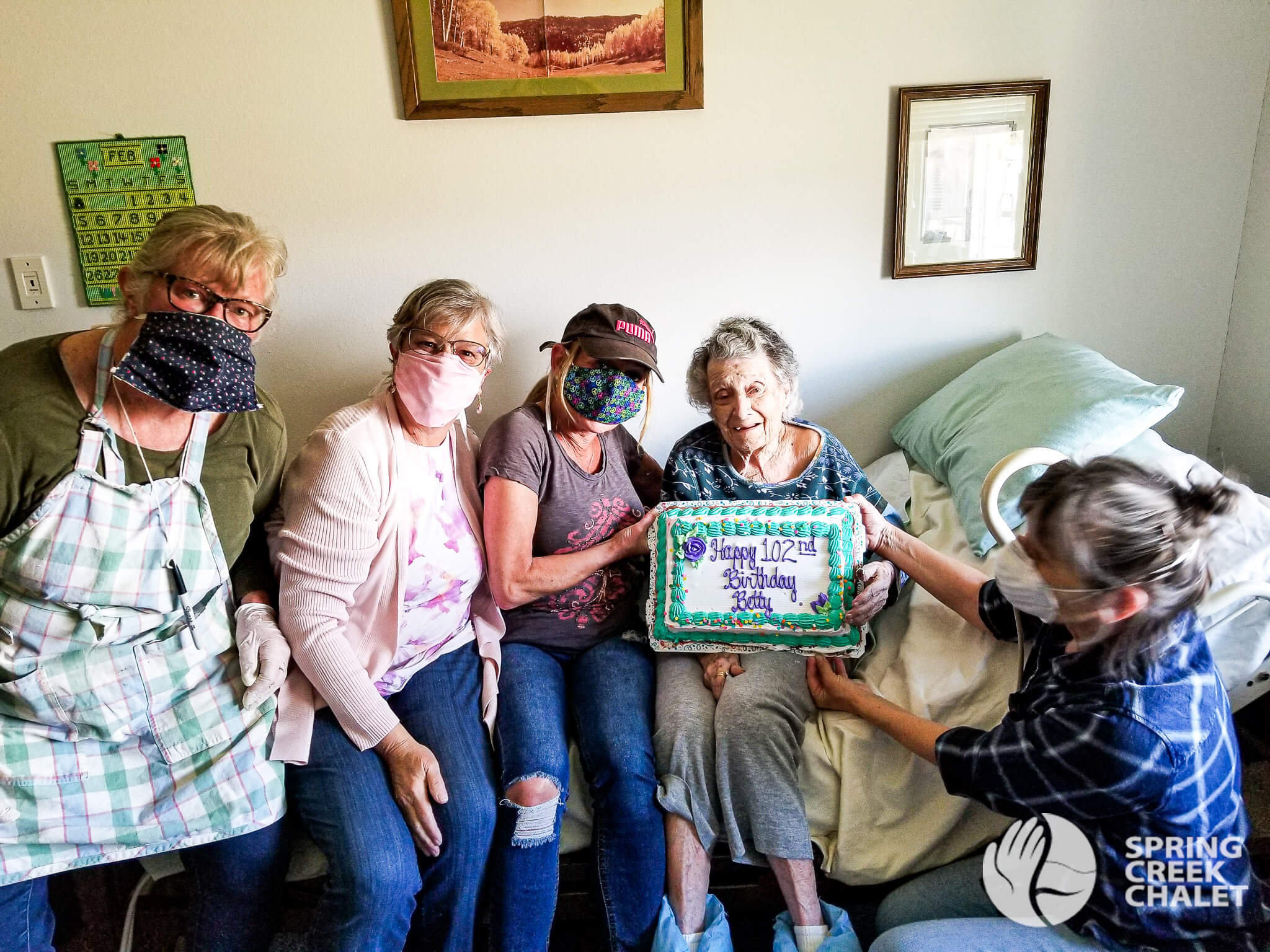 Friendly and Caring Atmosphere
Our loving and friendly atmosphere helps people enjoy the company of each other in a safe environment. Retirement should be a golden time when you can dedicate all your time to yourself doing the things you love.
As the owners of Spring Creek Chalet, we nurture the small luxuries that retirement should be all about.
We are more than just a retirement home.
We're here to help you live your best life possible, both in and out of Spring Creek Chalet.
Our team works hard with every retiree on scheduling personalized activities that will keep them healthy and support their independence, while also keeping their spirits up.