How to Choose a Retirement Home
When you reach retirement, you want to spend your time exactly as planned. You deserve to enjoy your free time without responsibilities. Depending on your health, you have several options to choose from.
You can select an independent living community, assisted living, a retirement home, or a nursing home—assuming, of course, that you no longer can or wish to stay in your home.
Your choice depends, among other things, on how much assistance you require, what type of lifestyle suits you best, and the proximity to your family and friends.
Proximity to Loved Ones
Many wish to choose an arrangement close to their loved ones, whether it's an independent living community, an assisted living one, or a retirement home. This makes it easier for family members to visit, while the proximity will help you visit them more often as well.
Knowing that your loved ones are close by will give you peace of mind and a sense of safety. Here at Spring Creek Chalet, we offer transportation to all our residents, included in the monthly rate. You can visit your family or friends anytime you want.
Social Life and Activities
Choose your retirement home according to the level of activities it offers. Your days should be filled with relaxing, fun activities that appeal to you. Gardening, reading, computing, crafts, exercises, and entertainment are just a few of the activities offered by Spring Creek Chalet to all our residents. You are free to choose whichever activity suits you best.
Enjoy your retirement with fun activities to keep your body and mind fit. They are a great way to socialize with other residents. You can mix and match hobbies—for example, some indoors and some outdoors—while making friends.
Proximity to Care
Your health will determine how independent you can be.
For instance, if you have mobility problems, you will probably need a retirement home that caters to your needs. Discuss your health issues with your doctor and evaluate what sort of help or care is necessary. You can then visit retirement homes and ask about their facilities. See how easy it is for you to move around in any given retirement home.
Likewise, people with cognitive issues require some very specific medical care. You should ensure the retirement home or the community you choose is equipped to handle such conditions.
How Is the Retirement Home Run?
You want your retirement home to be well run in a smooth and efficient way. Ask about housekeeping and laundry: how often are they done? Here at Spring Creek Chalet, we do housekeeping and laundry on a weekly basis.
What type of medical personnel is available? Is there an on-premises doctor or nurse? Are they around 24/7? Spring Creek Chalet doesn't have medical professionals on site but we do have a 24/7 manager available for emergencies.
You also want to know about the activities and how they are organized.
Finally, you need to check their food options: who prepares the meals? Are there three meals a day included in the price? Our Spring Creek Chalet chef prepares fresh meals every day and we change the menu weekly. We also have snacks available throughout the day.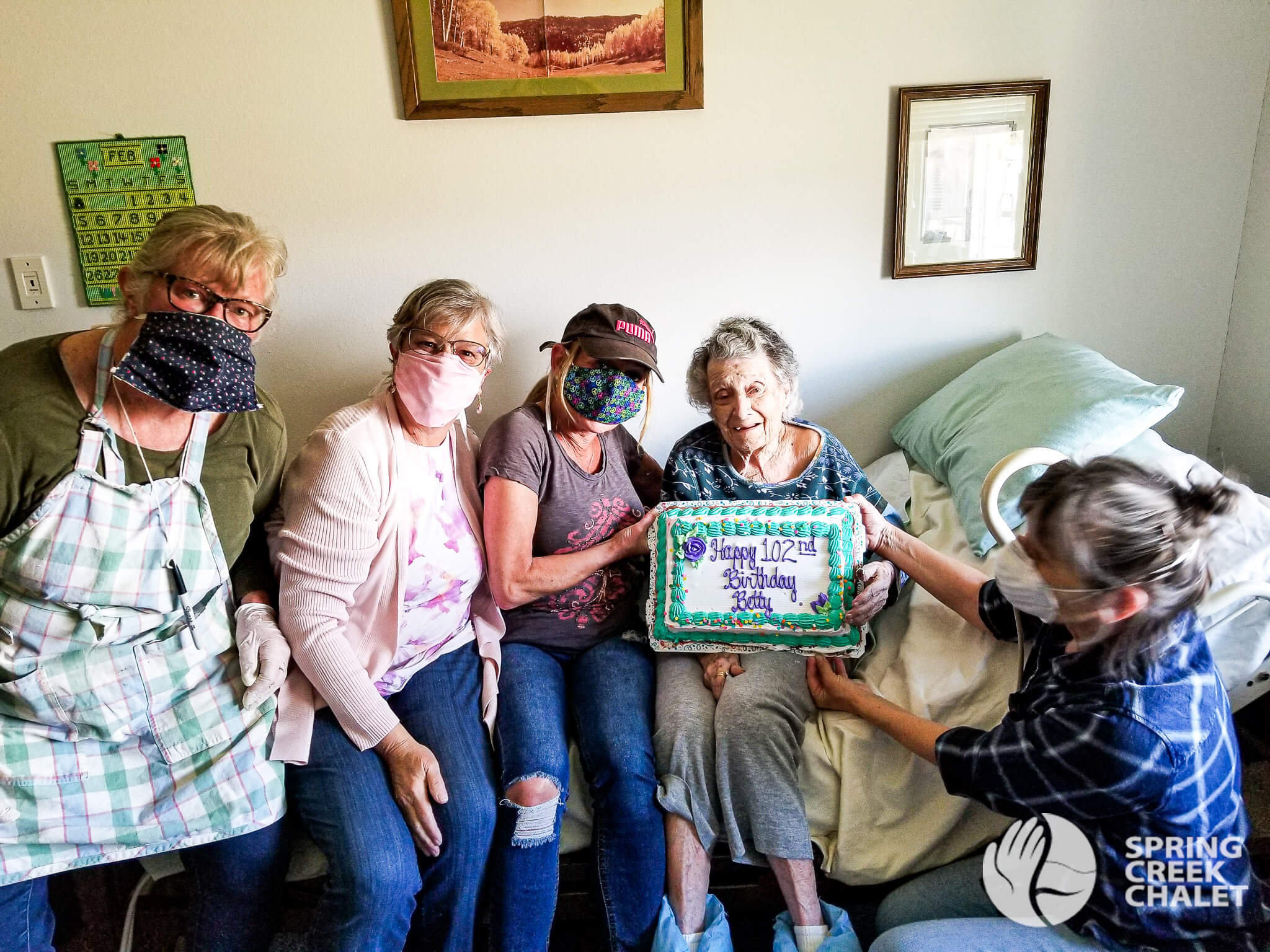 The Family Feel
When you retire, it's important to find a home that feels like family. Retirees want a happy and engaging atmosphere. They also desire an environment that makes them feel welcomed, valued, respected—and, most importantly, loved.
You want to see welcoming staff taking care of residents and people being kind, compassionate, and gentle with the residents.
Spring Creek Chalet is family-owned and operated. Since its foundation in 1988, we have considered our residents as part of our extended family. We like taking care of all our residents and we run our independent living community as we would run a big home.
Is It a Good Fit?
Ultimately, the choice of a retirement home rests on the feeling it gives you: is it a good match for your needs and personality?
Think about your preferences and lifestyle and see how these fit into the independent living community you are considering. Some people like a gregarious lifestyle while others prefer more privacy and independence. See how each retirement home or community you visit matches your expectations and fits your needs.
Here at Spring Creek Chalet, we try to blend conviviality with privacy. Our 26 private apartments give our residents the quietness they require. Communal areas, such as the library, living room, dining room, and garden, are there to help guests socialize and make friendships with other residents.