What Makes Montrose Colorado Special?
While Montrose has a small-town feel, it also offers plenty of amenities and spectacular outdoor activities.
As a small town, it is easy to enjoy the relaxed ambiance of the area and still get plenty of opportunities for walking around and enjoying the beautiful scenery. As they say, you can't spell Colorado without color—and the mountains, gorges, canyons, and valleys surrounding Montrose prove the saying. This quiet and easy lifestyle perfectly suits retirees and older people.
Spring Creek Chalet is located in Montrose and offers independent living to seniors. Our guests enjoy the beautiful scenery and the companionship offered by an active social life in a safe and pleasant environment.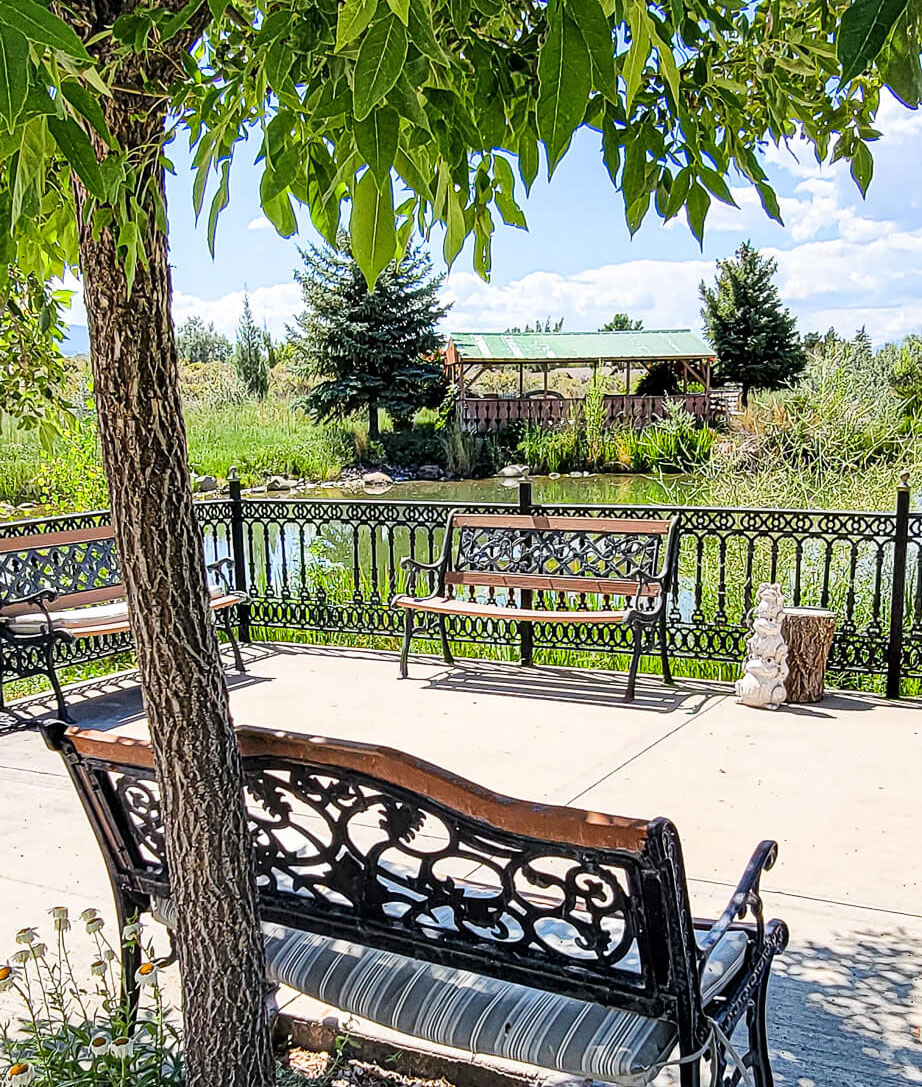 The Heart of The Western Slope
Montrose is surrounded by an amazing backdrop. The San Juan mountain range is only 30 minutes away, providing you with plenty of outdoor activities, ranging from mild ones to more demanding ones. You will find green valleys, lakes with crystal-clear water, lush forests, deep canyons, and trout-filled rivers to visit and explore.
If you want something more exciting, you can visit Ouray for its hot springs, which are a great way to relax and let your body unwind. Telluride is another small town to visit and stroll around, especially in the fall and winter. Grand Junction is within driving distance if you want to experience a different city feel from time to time and, of course, you can visit Denver for its many museums, restaurants, and cultural activities.
Montrose is a welcoming community where you will find plenty of shops, cafés, and restaurants that range from Italian and Mexican to burger houses and coffee shops. Families love the small-town atmosphere and retirees find Montrose just the right size for quality living.
Pleasant Weather
Montrose is popular for its mild climate. Summers are warm and dry, with temperatures that range between 50 and 80 degrees Fahrenheit. Winters are cool and don't have much snow, with temperatures ranging from 20 to 60 degrees. It has a whopping 245 days of sunshine and 79 days of precipitation, so it's ideal for those who love the outdoors.
Top Places To Visit
Spring Creek Chalet fits perfectly with the relaxed atmosphere of Montrose. It is surrounded by what Colorado and Montrose, in particular, have in abundance: beautiful scenery, parks, and natural beauty.
Our independent living community has a pond and perfectly-landscaped gardens for our guests to walk and enjoy. Many seniors love to draw and paint in our extensive gardens, as the surrounding nature nurtures their creativity. Likewise, the views of the San Juan mountain range, the Grand Mesa, and the Black Canyon add dramatic vistas.
Montrose Center for Arts
The Montrose Center for Arts (MCA) is home to over 100 artists and provides educational opportunities for children, adults, and seniors. Founded in 1976 by artist Robert Hughes and his wife, Carol, the center provided for years support for local artists and served as a place where they could exhibit their work.
Over the last 40 years, the MCA has grown into a cultural institution that offers year-round programming. Today, the MCA continues to provide affordable art classes and educates audiences about the arts through exhibitions, performances, workshops, and community events. Classes are available including painting, pottery, and sculpting.
The Museum of the Mountain West
The Museum of the Mountain West is dedicated to showcasing the history of the region. The museum covers topics such as agriculture, art, mining, and Native American cultures.
Black Canyon of the Gunnison National Park
The Black Canyon of the Gunnison is a spectacular area that has breathtaking views of the surrounding areas. Its diverse landscape ranges from prairie, meadows, and forested valleys. It offers hiking, horseback riding, camping, river rafting, climbing, and fly fishing.
Grand Mesa Scenic & Historic Byway
Grand Mesa Scenic & Historic Byway is one of Colorado's most scenic drives which passes through some wonderful landscapes. This route travels from Blanding through Glenwood Springs and on up to Grand Junction where it ends.
Dominguez-Escalante National Conservation Area
This national conservation area is located near the city of Montrose and was named after Juan Bautista de Anza and his brother Luis Antonio de Ordonez de Valero. It has many different plants and animals that are unique to this region.
Montrose Botanic Gardens
The Montrose Botanic Gardens are a gorgeous garden full of flowers and colorful butterflies. They feature an azalea garden, a Japanese garden, a rose garden, a butterfly garden, and a native plant garden.
Golf
Montrose has several private or public golf courses to choose from within city limits. Our local courses include The Black Canyon Golf Course, Cobble Creek, and The Bridges.
Montrose County Historical Museum
The Montrose County Historical Museum is a museum dedicated to preserving the past and telling its story. It features exhibits on local mining, farming, ranching, and military history.
Ute Indian Museum
This museum was founded in 1958 by Frank Etsitty and his wife Lillian. It tells the stories of the Utes and their culture. There is also a collection of traditional clothing, pottery, tools, baskets, jewelry, and weapons.
Ridgway State Park
Ridgway State Park is a beautiful place with lots of open space, beaches, lakes, mountains, forests, campsites, and more. It is perfect for outdoor enthusiasts looking for beauty and solitude.
Gunnison Gorge National Conservation Area
Gunnison Gorge is home to many species of birds and other wildlife such as mule deer, elk, black bears, mountain lions, and bighorn sheep. There are also over 100 plant species including grasses, sedges, wildflowers, orchids, and trees.
Choosing Spring Creek Chalet
The beauty of Spring Creek Chalet is that it offers residents communal living and social activities in a safe and gentle environment. Guests can make friends and are free to move around and socialize. There are many social activities available and various gatherings to help people engage with each other and have fun.
Montrose and the Spring Creek Chalet offer the perfect combination for seniors who like their autonomy and enjoy the charms of Colorado with its amazing natural views. Our independent living community matches the gentleness of Montrose.