Spring Creek Chalet Accommodations
Independent living combines the best of both worlds: independent living and plenty of communal areas where you meet people and make friends.
Learn More
Schedule a Tour
Stay Active on 20 Acres of Property
The Spring Creek Chalet retirement community is spread over 20 acres of property with plenty of vistas and walking opportunities.
Our guests enjoy the beautiful Colorado outdoors and take in daily the stunning mountain views of the San Juan, Grand Mesa, and Black Canyon. Green-fingered residents can also garden and take care of plants in the garden. Our pond and gazebo are the perfect places to ponder, draw, and enjoy the outdoors.
Settle Down In Your Homey Apartment
Our 26 private apartments have been designed for single or double occupancy. The units are identical, and include a living room and kitchenette for snack storage and personal use.
The 500 square foot apartments offer an ample living space as well as Wi-Fi and satellite TV. Each bedroom has an en-suite bathroom with a walk-in shower, grab bars, and an emergency pull cord system.
A private patio lets you sit down and sip your coffee in the midst of nature. We want our residents to feel their apartment as their home but also to socialize and meet up with their peers in the communal areas.
The great benefit of an independent living community is that guests have the choice to enjoy the privacy of their room while still enjoying the company of others. We provide housekeeping, laundry, cleaning, and three meals a day for all our residents so they can fully retire from the hassle of everyday chores.
Residents can bring their pets with them. We feel that your retirement community should feel like home: if your pet is part of your life, you should have him with you at Spring Creek Chalet.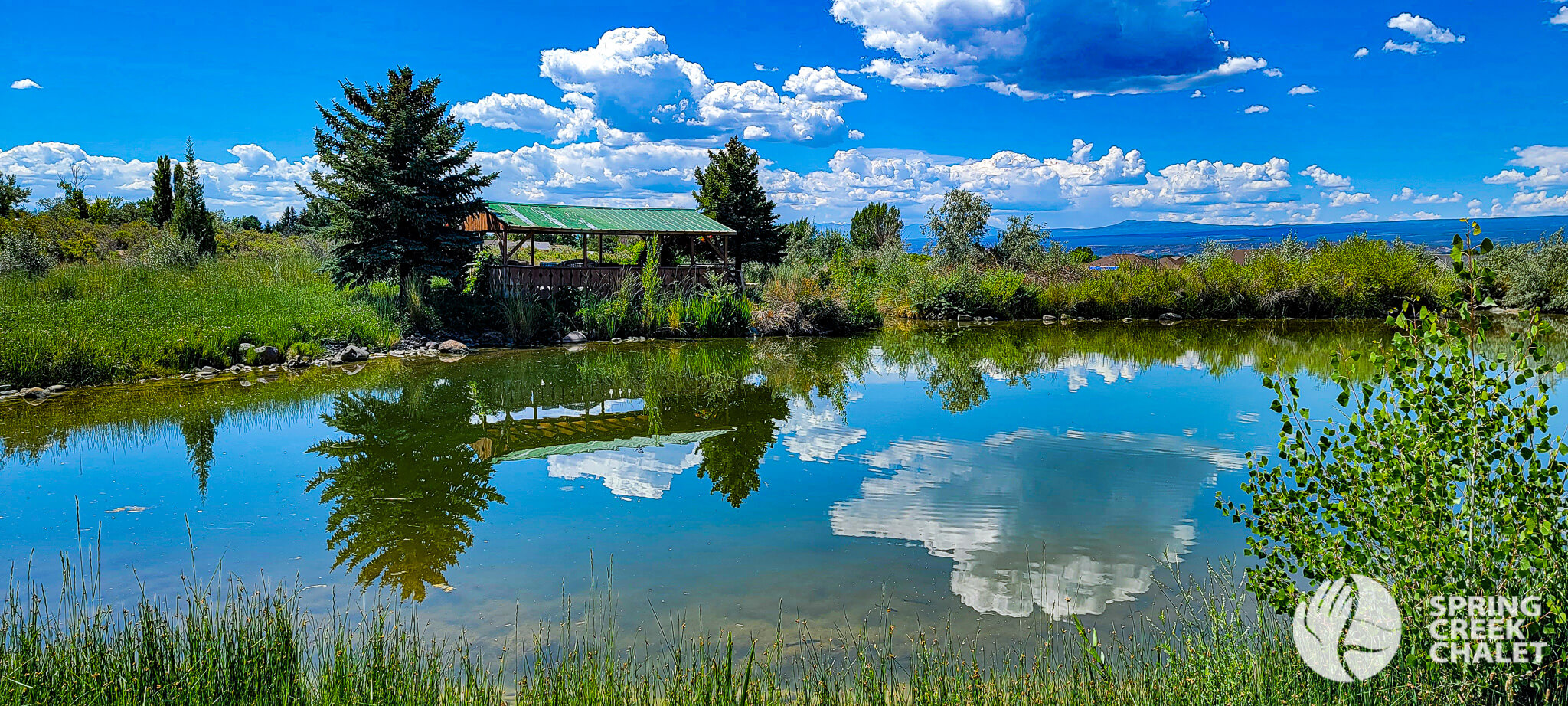 Feel Secure with Owner and Staff on Site 24/7
Spring Creek Chalet has been operating since 1988. Our independent living community is family-owned and family-run. We love caring for people and strive to give them the autonomy they require within a beautiful space.
We feel Spring Creek Chalet is our home, too, which is why we enjoy being around, taking care of everyday matters, and meeting our residents. In addition, a manager or one of the owners is available on site 24/7 basis to assist with emergencies and other medical issues.
We do not have medical professionals on-site but are happy to allow outside assistance such as a personal caregiver or home health care.
Enjoy Life at the Spring Creek Chalet
Home-Prepared Meals
Our chef prepares homemade meals every day. Our residents enjoy three meals a day with several menu choices.
Menus change weekly so you get to enjoy new flavors and different dishes each week. Not only are they delicious, but a lot of the fresh fruit and vegetables we use comes from our orchards and garden plot. Our residents are free to help tend to the garden if they so desire!
Services
We take care of everyday tasks such as housekeeping and transportation to make your life easier and more enjoyable.
Activties
Our independent living community offers plenty of activities to residents. We have a library, common area with TV, a crafts room, and a family room.
In addition, we have a full-time activity director and organize social events, trips, and outings. We also offer on-site entertainment and exercise classes to keep our residents active. Residents can choose how much they want to be involved in activities and are free to mix and match the activities they like.
Transportation
Driving may not be easy or fun for you anymore. If so, we can take care of your transportation needs to give you the feeling of autonomy and the peace of mind you desire.
We will take you to your appointments and let you enjoy shopping sprees and excursions around Montrose or the surrounding area. We will also pick you up and bring you back to Spring Creek Chalet or take you anywhere else you need to go.
Transportation is included in your monthly rate so you don't have to worry about any extra costs.